Residential & Commercial Heating Solutions
When the coldest time of the year is here once more, is your heater going to be able to provide you with the warmth that you need to live comfortably in your home? When you schedule your heating services with a member of our staff, you can count on this being the case. Our heating technicians are some of the finest in the industry, and they are here to ensure that your home heating system functions at optimal operating levels.
In order for your heater to truly excel in its operation, you need more than just a great system. You need to guarantee that your heater is of the right size for your home, that it is installed properly, and that it maintained with care and promptly repaired as needed. By dialing our number to schedule service, you can satisfy all of these criteria.
Installation & Replacement
A heater is not going to operate at peak performance levels if it is not installed by a qualified professional. In fact, a heater will not even operate safely if not professionally installed. When you are using electricity or fossil fuels in order to generate heat for distribution throughout your house, you really need to know that that system is doing so in a safe manner. When you schedule your heating installation or heating replacement with us, you'll have no doubt about it. We'll take the greatest care imaginable to ensure that your home heating system is properly installed and in fine working condition.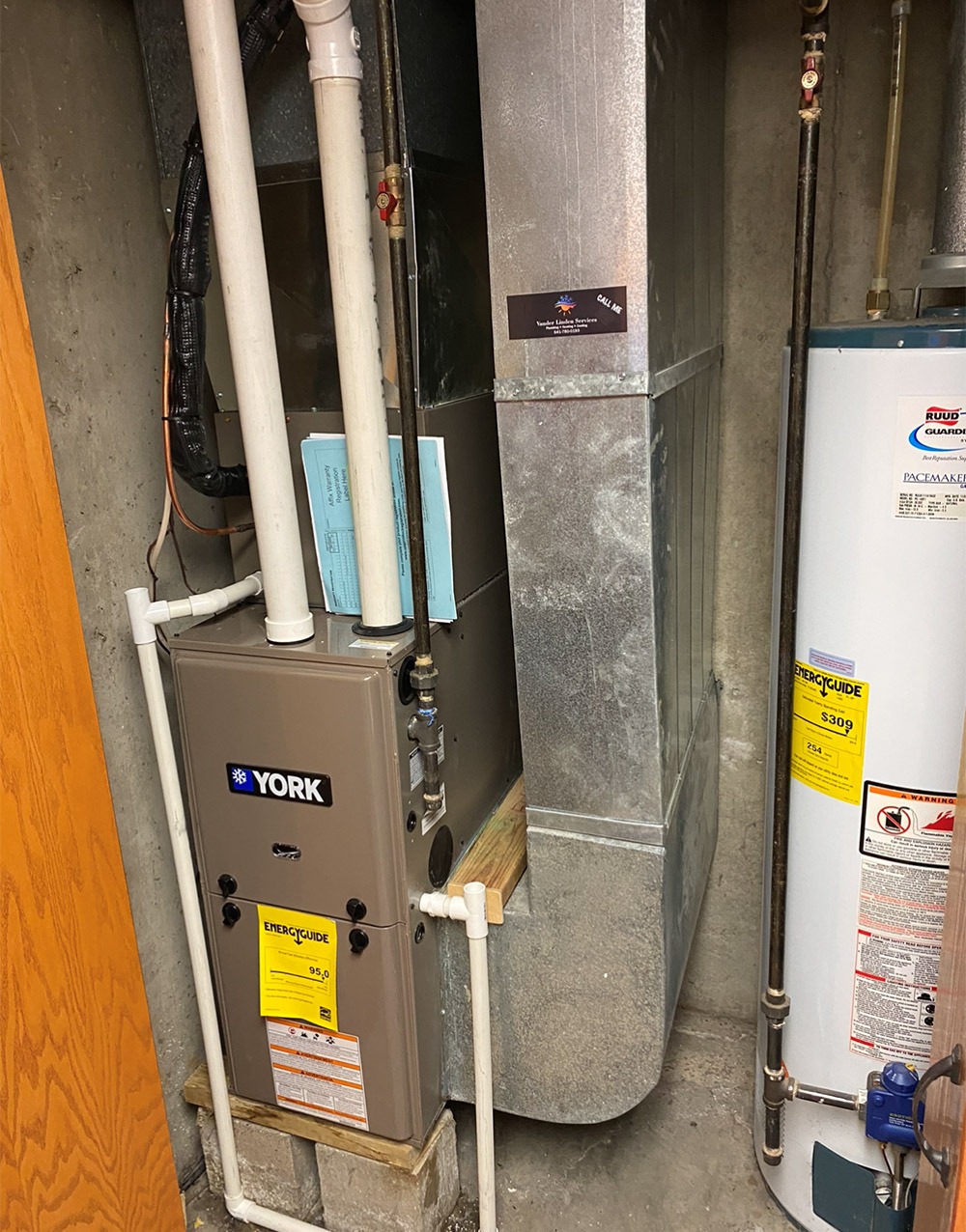 We are a full-service HVAC company, so if you need a sudden furnace replacement, do not hesitate to give our team a call!
Kitchen Plumbing
Bathroom Plumbing
Repiping
Gas Piping
Sump Pumps
Main Water Lines
Slab Leak Repair
Water Treatment
Irrigation & Outdoor Plumbing

Austin recently installed an new AC and furnace in our home. From start to finish everything was fabulous! I would highly recommend him for any of your needs!
Hats off to these guys they do great work – fit me in their busy schedules.
Thank you guys!
Austin has been so helpful! He has been so sweet to help me fix some problems. I appreciate his efforts to work around my schedule and get things done in a timely manner!

How Does Ductless Heating Work?
If you've never encountered ductless heating, then you may have a difficult time envisioning how such a system works. Sure, radiant systems don't use air ducts. However, they also don't blow hot air as part of their operation. A ductless heater does, but will do so via the use of individual, wall–mounted blowers. These heat the rooms in which they are installed directly, rather than distributing that air throughout an entire house via ductwork. Heat pump technology is utilized in order to absorb heat from the air outside. The refrigerant that absorbs this heat is further compressed, and this thermal energy is then used to heat air for warming one's home.
What is Radiant Heating?
A radiant system is a type of heater that doesn't rely on forced-air to provide comfort. Forced-air systems use blower fans to send heated air into the rooms, either through ductwork or wall-mounted air handlers. Radiant systems instead radiate heat waves into a room by heating up an object. Most radiant systems operate on hydronic power, using heated water to raise the temperature of an object, but they can also use electric heating elements.
You cannot install a radiant heating system on your own—and you shouldn't seek out inexperienced amateurs to do it either. These systems often involve placing pipes and heating elements into the floor, and the work is extensive and complex. Only call on the most experienced technicians you can find, like ours. We will see that you have your new radiant system installed fast and installed correctly so that it will continue to serve you for years to come.
What is Zone Controlled Heating & Cooling?
The most obvious benefit of zone controlled heating and cooling is the freedom to maintain different temperatures in different areas of one's home. This is important for a few reasons. First of all, you will no longer have to pay to heat or cool those areas or rooms in the house that are not often in use. Plus, there is the fact that not every member of your family will be comfortable at the same temperature. Because of this, you may need to maintain different temperatures in different areas just so that everyone living in your house can live comfortably. A zone control system grants you this ability.
What Types Of Thermostats Are Available?
Choosing the right thermostat for your personal preferences and user habits is just as important as it is that you invest in a quality product from a trusted manufacturer. Here are a few of the more common models available. 
Digital thermostats may be quite basic, but many homeowners simply like to keep it simple when it comes to controlling their HVAC systems. While digital thermostats are a bit more advanced than manual models, they are actually even simpler to use. This is because their push-button controls and easy–to–read digital faces make setting temperatures accurately simple. They also offer programmability features, if desired.
Wireless thermostats are also well–worth your consideration, especially if you're a fan of the idea of making your HVAC system even easier to operate. With a wireless thermostat, a sensor is hard-wired into the system. This leaves the thermostat itself free to wander the house with you so that you can adjust temperatures as needed without getting up to do so.
Smart thermostats are ideal for those homeowners really interested in using technology in order to improve their lives. With a smart thermostat, you can track energy usage throughout your home. You can use this information to make changes that can save energy in your house, and you can even control your HVAC system remotely via any internet-enabled device, such as your smartphone.
Address
1396 Hwy 163
Leighton, IA 50143
Email
info@vanderlindenservices.com