Air Conditioning
Keeping your cool during the hottest time of the year can be quite a challenge. The good news is that you can enjoy a great, efficient performance from your AC by allowing the pros on our staff to install and service it.
Choosing the right air conditioner for your home may be more complex than you realize. With split central air conditioners, heat pumps, ductless ACs, and more to choose from, deciding which is right for you can take some time. Fortunately, you need only work with the air conditioning pros here at Vander Linden Services to ensure that you're choosing your system wisely.
Installation & Replacement
The key to getting a great performance from any central air conditioning system is to have that system installed by a trained professional. A central AC installation is simply not something that a layman or inexperienced technician can handle. If your system is not of the right size for your home, it is going to struggle to cool your living space effectively and affordably. You won't have to worry about that when you schedule your central air conditioning installation with us, though. Furthermore, you can count on our staff to complete a great central air conditioning replacement for you, if your existing system is just on its way out.
We are a full-service HVAC company, so if you need a repair or replacement, do not hesitate to give our team a call!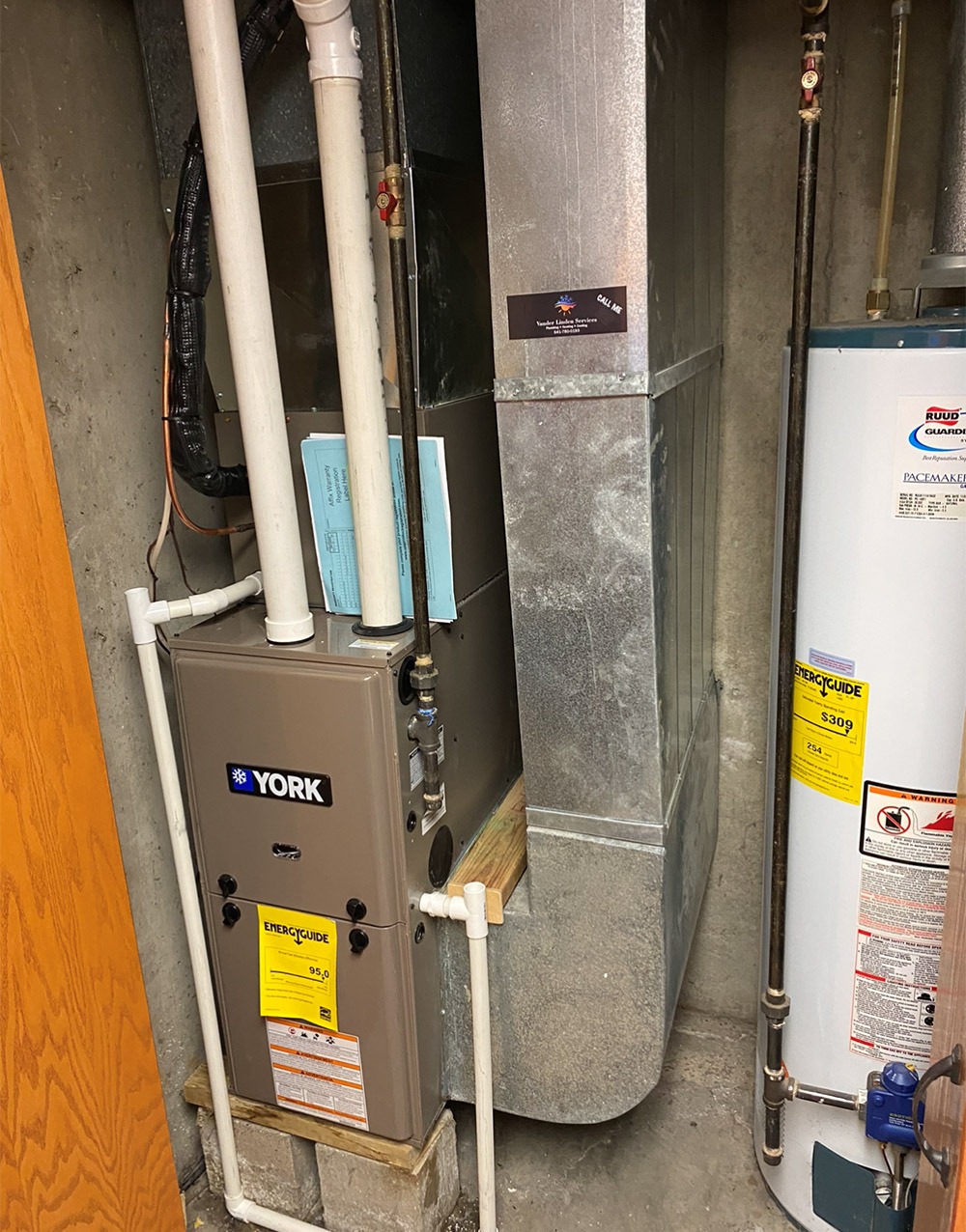 Kitchen Plumbing
Bathroom Plumbing
Repiping
Gas Piping
Sump Pumps
Main Water Lines
Slab Leak Repair
Water Treatment
Irrigation & Outdoor Plumbing

Austin recently installed an new AC and furnace in our home. From start to finish everything was fabulous! I would highly recommend him for any of your needs!
Hats off to these guys they do great work – fit me in their busy schedules.
Thank you guys!
Austin has been so helpful! He has been so sweet to help me fix some problems. I appreciate his efforts to work around my schedule and get things done in a timely manner!

What Is A Ductless Air Conditioner?
A ductless air conditioner is a whole-house cooling system that does not use ductwork in order to distribute cooled air throughout a home. Instead, individual, wall-mounted blowers are used in order to distribute cooled air directly into the rooms in which they are installed. An outdoor unit, much like that in a more traditional central AC system, is used, and this outdoor unit can typically support up to four blowers. The blowers are controlled independently of one another, each with its own thermostat so that you can maintain different temperatures in different areas of the home.
When you purchase a ductless air conditioner, you obviously want to invest in a quality system from a trusted manufacturer. That being said, you must also keep in mind the fact that no ductless AC is going to function properly if not professionally installed and serviced. 
What Is A Heat Pump?
A heat pump is a forced-air HVAC system that is able to reverse its refrigerant cycle. During the summer season, a heat pump acts just like a central AC. It removes heat from the air in one's home, vents that heat outdoors, and then redistributes cooled air throughout the house. During the winter, though, the heat pump's reversing valve allows for its refrigerant cycle, and the system's overall operation, to be reversed. Now, heat is drawn out of the air outside. The warmed refrigerant is further compressed, and that thermal energy is put to use in order to heat air for distribution throughout the house. Very little energy is used in this heat transfer process, making the heat pump a very efficient heater. 
What is Zone Controlled Heating & Cooling?
The most obvious benefit of zone controlled heating and cooling is the freedom to maintain different temperatures in different areas of one's home. This is important for a few reasons. First of all, you will no longer have to pay to heat or cool those areas or rooms in the house that are not often in use. Plus, there is the fact that not every member of your family will be comfortable at the same temperature. Because of this, you may need to maintain different temperatures in different areas just so that everyone living in your house can live comfortably. A zone control system grants you this ability.
What Types Of Thermostats Are Available?
Choosing the right thermostat for your personal preferences and user habits is just as important as it is that you invest in a quality product from a trusted manufacturer. Here are a few of the more common models available. 
Digital thermostats may be quite basic, but many homeowners simply like to keep it simple when it comes to controlling their HVAC systems. While digital thermostats are a bit more advanced than manual models, they are actually even simpler to use. This is because their push-button controls and easy–to–read digital faces make setting temperatures accurately simple. They also offer programmability features, if desired.
Wireless thermostats are also well–worth your consideration, especially if you're a fan of the idea of making your HVAC system even easier to operate. With a wireless thermostat, a sensor is hard-wired into the system. This leaves the thermostat itself free to wander the house with you so that you can adjust temperatures as needed without getting up to do so.
Smart thermostats are ideal for those homeowners really interested in using technology in order to improve their lives. With a smart thermostat, you can track energy usage throughout your home. You can use this information to make changes that can save energy in your house, and you can even control your HVAC system remotely via any internet-enabled device, such as your smartphone.
Address
1396 Hwy 163
Leighton, IA 50143
Email
info@vanderlindenservices.com